Everyone who does Search Engine Optimization (SEO) want to push his or her website to page one in organic search on Google's search results.Potential clients looking for photography services in your business.(?) With a high position in organic search results you have best chances to get visible and finally get hired.
The counterpart of SEO is SEA and means Search Engine Advertising. SEA leads to higher visibility as long as you pay per clicks. So SEA is better for a high short-time traffic, but expensive in the long-term. 
In social media we have a similar picture. As a photographer you probably use several platforms and know that you have post your content constantly to keep or rise your visibility. That costs you a lot of time and wor. Also in many social media platforms like Facebook or Instagram you are able to create ads to support your organic growth. 
So you may compare SEO with the organic growth in social media. You need to deliver high quality and useful content. 
The main disadvantage of SEO for photographers
Your portfolio is the central and most important part of your website. Your photographs directly show your skills to potential clients. Clearly, your preferred type of content are your photographs and not texts. However for search engines is that a huge problem. To appear in organic search results, your website content needs to be related to the users search request. Texts are a very important component which can help you making your website less or more related to search requests. If your website contains no or only a few texts, Google's crawler has problems to find out, which is your websites main topic. So texts help Google to find out about your website. If Google don't know enough about your websites content (because a lack of texts), your rankings and visibility may be worse.
The question is: How you add texts to your website usefully?
The first and most elegant option to add texts to your portfolio, is to create your own blog. However your website will get a higher value for your prospects and more visibility at Google's search engine. Feel free about the content you create, at least it should fit to your photography business. However i want to give you some ideas.   
3 basic ideas for your blog content
Give your readers insights about some of your photography projects. Tell them how you prepared for your shoot and why did you make the final decision about your location. How did the shooting go? What did you enjoy and was there obstacles you had to face off? Pack your adventures in a interesting story. It's all about storytelling here! 
Give your blog a more educational character by writing posts about photography and retouching advices. You are expert in your niche – so why not sharing some experiences to amateurs? Show your expertise as a professional and you will become more transparent and trustworthy. 
Write reviews of your photography whole equipment you use in your shootings. What are strengths and weaknesses of your gear? Explain which gear is necessary in your niche and which gear and functions are not that important for you.  
For sure you will find a lot more ideas for content. Besides a better visibility at search engines you may share every post on social media again, and link to your website to get more traffic to it.
Meta title and meta-description


Independent of your actual website content there are some SEO to-dos on your website (onpage) you can do to increase your Google ranking. One of these are meta title and meta description. Both title and description are shown in the organic search results (SERP). Here the user makes the decision to visit your website or not. This is crucial, because the metas are the most important reference points if your website might fit to the people's search intention.
Meta title and meta description should not only set for your home page but for every blog post and content page as well. As photographer it might be useful to use your name, your location and your niche (f.e. wedding photographer) in your metas.
URL structure and link paths on your website
One more topic for better Google rankings is the structure of you URLs. In the name of your URL you should place important keywords related to the content of this page. According to this you should name your URLs meaningfully instead of leaving kryptic URL names. Better URL structure not only helps your page visitors by a easier navigation.
It is better for the usability of your website and better for your Google ranking as well.
Especially while creating your own blog, it is helpful to create a useful URL structure simultaneously. For example when you create a post about the dodge and burn process in photoshop:
yourwebsite.com/blog/tutorials/photshop-dodge-and-burn
In this example we have a seperation of our blog in several topics – one of them: tutorials. We made that visible in our link structure and we named the URL related to our post.
Captions and post structure
The captions of your blog posts and content pages are important for SEO as well. It helps that Google identify the topics of your whole website with all its pages. When it is easier for search engine crawlers to recognize your topics clearly, it is in general better for your rankings. SEO regarding to your written content is a mixture of texts (quality and quantity) and captions. That means the header structure is not less important than your content itself.
The hierarchy of the captions is the following:
H1 is the main caption of every website – the caption with the highest rank. Every page may only have one caption with h1 tag. All others may have higher counts. Usually use the page topic as your h1 and put your most important keyword into it.
Filenames and ALT attributes of your pictures
For optimizing your pictures one crucial point is the filename of each picture. Similar to the choice of your captions, you should put important keywords into filenames of your pictures and write all with small letters and separate words by using "-".
For example i used the following scheme for my pictures from the Ford Mustang shoot:
"erik-draeger-photography-ford-mustang-1.jpg"
Another important point for each of your pictures is the ALT attribute. The ALT attribute has the function to deliver a small text, when your picture can not be displayed, caused by technical issues. So you have to set up an unique ALT for each picture, which can be a little bit arduous. Just give a little description to each picture in one sentence or insert additional information.
The time it takes until your website is completely loaded, is another important factor for your organic ranking. As photographers we have a portfolio with at least a handful photographs.
The original size of your photographs may cause to very high loading times of your website. Especially on mobile devices a huge problem in case of limited data volume. User bounce off your website when it runs to slow. First solution therefore is, to compress all your images. In my portfolio i usually upload my photographs in a resolution of 1555×1037 to my WordPress Website. Afterwards i am using the plugin "Autoptimize" to reduce the size of all files again. 
Furthermore Google is running a web based tool: Pagespeed-Insights. That tool allows you to check the performance and loading times of your website. Afterwards you will get advices to improve your websites performance and page speed. Therefore you can check your website for both versions: mobile optimized pages and desktop.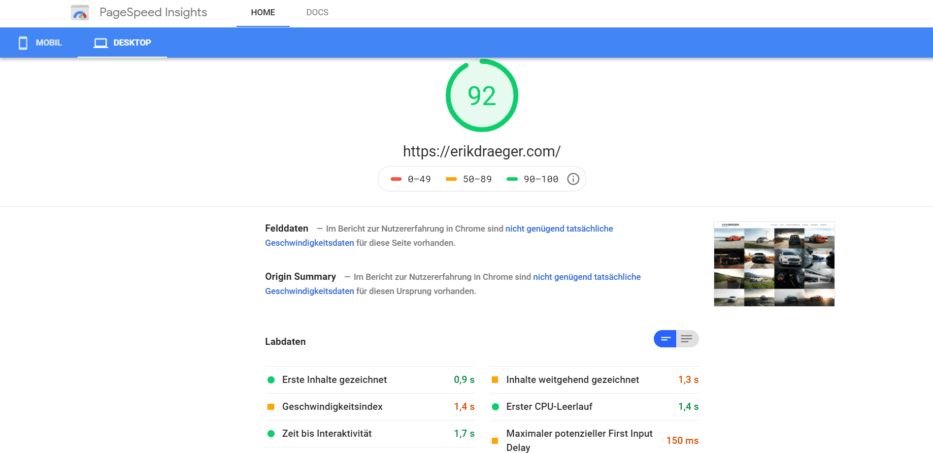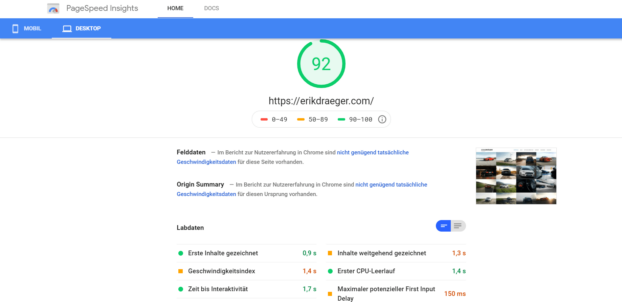 While half of your success in SEO is based on Onpage SEO and website performance is the other half based on backlinks. Backlinks are referrals to your page from others. Getting referrals from others is a signal for search engines, that your websites content  seems to be relevant and valuable. The more trust your website receive the better your website will be affected.
How to start link building preferably?
As a photographer you probably got in touch with the common photography communities and already running your profile there. Usually you are able to write your website in your profile like as an registered user of 500px or Behance f.e.
Look for other platforms where you can write your website in your profile like flickr and deviantART.
In a next step you may look for local and regional business directories or company registers.
Sign in with your photography business and you will get the next backlinks. These links are not only conducive as backlinks, but they might bring additional traffic to your website.
Another idea might be joining design-contest websites. Look for such platforms and showcase your website.
With these advices you have got some basic SEO knowledge to improve your rankings in search engines and your portfolios visibility. Notable success in SEO will take time but in long term necessary and sustainable. 
Good luck for implementation!